Wills and Trusts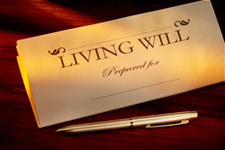 An experienced estate planning attorney knows how to use a will and a trust as tools to transfer property after your death. Putting together a good estate plan consists of drafting and executing documents such as a will, a trust, or both. The purpose of an estate plan, and the importance of having a will or trust is to protect your assets and preserve your intentions.
Mark and Roberta are experienced estate planning attorneys who will help you develop all of the documents needed, including detailed instructions outlining how you would like your assets handled upon your death. We are available to discuss with you your specific estate planning goals. We will advise you of your options and develop a plan to minimize taxes and the reach of creditors, and maximize the distribution of assets to your family and loved ones.
Oklahoma has a "Default Will" under the Intestate Succession Statutes That May Not Be Consistent With Your Wishes
It is important to know that if you die without a will, the state of Oklahoma has a scheme of distribution set up by default. This means that without a will where you name the beneficiaries of your estate, the probate court will be forced to distribute your assets when you die, not necessarily according to your wishes. Thus, taking a proactive approach by drafting a will can ensure that when you die you don't have to let the State decide what happens to your estate.
Many times a trust is wise, because it not only allows for protection of assets and carries out your wishes like a will, but it can avoid having a probate matter filed at all. This saves time and money, something your surviving family members will greatly appreciate. It also offers greater flexibility and privacy than having to go through a public court probate proceeding.
Robinson Law Offices offers this "Revocable Living Trust" estate planning package for an individual  for as low as $999.00 flat fee including:
A Pour Over Last Will; Ensures that property not held by your trust is given to your trust beneficiaries upon your death.
Individual or Joint Revocable Living Trust; Holds Property for an Individual or a couple during life and Distributes it after death.
Real Estate Deed; Transfers Real Property into your Trust.
Memorandum of Trust; Instructions by you for your Successor Trustee.
Schedule of Assets; Describes property you own and where your documents are located.
Power of Attorney; Customized to your needs
Advanced Medical Directive; Instructions to your loved ones regarding medical decisions
Instructions by your attorney on how to properly fund your trust.
Deluxe Engraved Secure Living Trust Organizer and Archival Quality Paper.
State Specific Instructions
Ability to make gifts of specific property such as jewelry or artwork
Successor and Alternate Successor Trustees; People you designate to manage your assets for you and your beneficiaries.
Free revisions up to 6 months after purchase
Attorney Consultations in Person or by Telephone  Included to Customize your Estate Plan
While there are online forms that you can purchase and use they ofton charge hundreds of dollars extra for "attorney consultations" or "real estate deeds". By the time you add all of the documents in the package we have created for you the cost is very close and every document we have included is important to the proper administration of your estate.  There are many advantages to using the proper estate planning documents. Robinson Law PC can discuss with you the specific options that will help achieve your goals.
Let Robinson Law make it easy for you…and your loved ones. Contact us for a free consultation at 918-960-0091.