Probate
O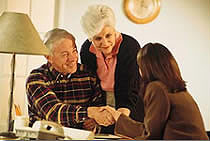 ur experienced probate attorneys strive to provide compassionate and personalized attention when helping clients with a probate. Probate is a court proceeding that involves the process of transferring assets from a deceased person to his or her beneficiaries or heirs. It can be complex and time consuming, and can leave the surviving family members feeling confused and overwhelmed.
Usually one person is designated in the will by the deceased as the person they wanted to handle the estate administration. Moreover, that person has usually never done this before and finds themselves in very unfamiliar territory. That is why it is so important to consult with an experienced probate administration attorney, who has been there before many times and can advise you how to avoid pitfalls and guide you through the process with ease and success. In this way, you can make sure that the distribution of assets occurs efficiently and effectively according to your loved one's wishes.
Robinson Law will help you if you find yourself dealing with the estate of a deceased family member or friend. There are many legal hurdles to successfully administering, distributing, and ultimately closing an estate. We are trained to help you deal with creditors, taxes, heirs, and the court system.
Are you certain you can carry out the deceased's wishes as they intended? Could you be personally liable for transactions that do not occur as they should? Are you immune if you claim "ignorance of the law"? For answers to these important questions look no further than the Robinson Law. We will discuss your role and explain our fees and services during your free initial consultation. Contact us today!