Advanced Medical Directive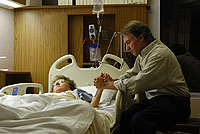 What happens if you are incapacitated from an accident or from a disease or illness such as Alzheimer's, Parkinson's, or dementia? One simple but effective tool used to tell others your wishes should you someday find yourself incapacitated is an "Advanced Medical Directive". Robinson Law PC can create a detailed living will, advanced medical directive, and a springing durable power of attorney so your family members know how you would like to be treated in the event you become incapacitated or seriously ill.
Through a medical power of attorney, you can designate a close friend or family member to make important decisions about your health, if you do not have the mental capacity to do so for yourself. And through the creation of a living will, we can help you outline your desires regarding life support and end-of-life care. In addition, we can help you appoint a financial power of attorney to make important financial decisions, if you are unable to for yourself. All of these documents are tools that can be drafted in advance, and held for safekeeping, to be used if and when the day comes that you need them. Don't leave anything to guesswork. Let your loved ones make the decisions you want made in the event you cannot fully function.
Robinson Law PC can discuss these and other options with you to make sure your affairs are handled properly in all situations. Contact us today!