NECK, BACK AND KNEE INJURIES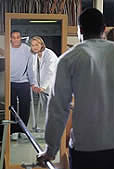 Immediately after a car accident clients are ofton worried about the damage to their car and the time off of work they have to take. Accident victims ofton miss the first signs of a serious neck, back and knee injury which if left untreated can lead to poor recovery and an undocumented injury to present to the insurance company. Roberta Robinson does a thorough screen with each new client to determine if they need further treatment beyond the emergency room and will help them find an appropriate medical provider who will treat their injuries and document their case well. She has head trauma screens for concussion victims as well as specific screens for neck, back and knee injuries.
Since many neck, back and knee injuries are initially overlooked as soreness and "whiplash" a good personal injury attorney will immediately make sure that valuable evidence is not lost such as pictures of bruises, pictures of places in the car where the body stuck the vehicle and pictures of the scene demonstrating the gravitational forces of impact. Once the initial injury has been properly documented a good personal injury attorney will follow your treatment with your medical providers to determine if indicators of more serious injuries are apparent such as radiating pain down the shoulders, arms, buttocks or legs and pain while raising your arms. Once a determination has been made that you indeed have a bulging or herniated disk or torn rotator cuff for example it is imperative that a good surgeon examines you to determine if you need more extensive treatment. Because Doctors are very busy and see many patients our personal injury attorneys regularly monitor our clients progress and identify any signs of serious injury that should be brought to the physicians attention.
When our personal injury attorneys present your case to the adjuster they do not just send your records in an envelope to the insurance company with a request for an evaluation. Our personal injury attorneys have screened your case, followed your treatment, thoroughly documented your injuries and prepared a settlement notebook for the insurance company to review so that the highest maximum settlement can be obtained for you. Our goal at Robinson Law PC is to make sure that you get the treatment you need and that your injuries are documented as thoroughly as possible so that we can help you get on the road to recovery as soon as possible!