Medical Bills and Lost Wages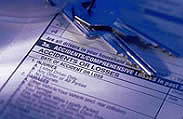 After an accident patients worry about how to pay the medical bills and obtain compensation for their lost income and wages. Roberta Robinson's prior experience as a medical social worker helps her have an edge when it comes to understanding your injuries and how to best present the impact of the injury to the insurance company. Her experience in medical terminology, reading medical charts and working with physicians helps her thoroughly review your medical records, have good communication with your medical providers and to develop compelling arguments abut the serverity and permanency of your injuries.
Roberta Robinson has worked with top neuro-surgeons and neuro-psychologist around the country to document the cognitive injuries her clients have sustained. She has been able to secure cognitive rehabilitation at top clinics for her clients such as Baylor Rehabilitation in Dallas. She has worked with top vocational specialists to prove your loss of capacity to work and the value of your lost wages. She has worked with an extensive list of treating and forensic medical providers to help her clients achieve rehabilitative and financial success on the road to recovery.
Roberta Robinson believes that a good personal injury attorney will not only document your injuries and lost wages to obtain a fair settlement for you but they will negotiate your medical liens with your medical providers so that you end up with the maximum net settlement possible in your pocket. Roberta Robinson has been very successful in negotiating lien reductions for her clients because she puts the extra time and effort into accomplishing the best possible net settlement for her clients. Her goal is to help her clients first get treatment from the best medical providers possible and then to medically document their case as thoroughly as possible and to fight for the highest net settlement for her clients.