Obtaining IRS Tax Exempt Status
State Filing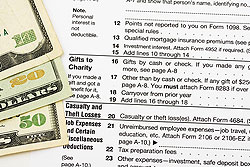 Robinson Law PC nonprofit tax-exempt attorneys can help you create a state recognized corporation that is organized as a non-profit entity. Some states have specific chapters to incorporate under for religious entities.Our nonprofit attorneys will help you prepare Articles of Incorporation to be submitted to your state. This filing for nonprofit status in your state is the first step of the process for becoming a tax-exempt organization.
The incorporation documents prepared by our tax exempt attorneys will state the charitable or other non-profit purposes of the organization. The Articles will also have certain specific language, such as a restriction on the use of the assets for only non-profit purposes. When your state filing is approved, you will receive a certificate or a similar document that proves you have been approved to operate as a nonprofit in your state.
Robinson Law PC nonprofit lawyers will then create bylaws and minutes of the initial organizational meeting of trustees. The nonprofit corporation is then managed by a Board of Trustees, which is similar in function to a Board of Directors found in a for-profit corporation.Our experienced nonprofit tax exempt attorneys can help most clients complete this step usually within 30 days or less and for a very affordable cost.
IRS Filing For Tax Exempt Status
Robinson Law PC nonprofit tax exempt attorneys will represent you as you now proceed to the second and more complicated step. To become officially recognized as a tax exempt organization, you must apply to the IRS. You are seeking a determination letter from the IRS whereby they state you will be treated as tax exempt, based upon the qualifications shown in your application.
Our nonprofit lawyers will prepare a filing which consists of a Form 1023 (for 501c3 entities) and up to a dozen or so other various schedules and supporting documentation. The schedules required depend upon what type of entity you are and what type of activities you will conduct.
Robinson Law PC nonprofit tax exempt attorneys will know if different forms are necessary because you are applying under another class other than 501c3. We will prepare all the necessary documentation and submit the proper package to the IRS within 5-10 days from receiving all client information and the IRS filing fee.
Robinson Law PC nonprofit tax exempt attorneys will aggressively represent you throughout the entire process, which includes a lengthy IRS processing time, can take several months (6+). You are not alone during this time. As your nonprofit tax exempt attorney, Robinson Law PC will continue to monitor your application during every stage of the process. On your behalf we will communicate and interact with the IRS personnel assigned to your application, responding to any questions and requests for additional information, following it through to the very end, helping you obtain your organization's determination letter.
Robinson Law PC will help you all the way through completion of the two main steps,including submitting the forms for you and responding to the IRS for you. You may see many others advertise they will help you also. The key difference, however, is that the attorneys at Robinson Law PC will walk with you, and carry you when necessary, to navigate those main steps and all of the baby steps involved along the way. Our goal is not to just prepare the paperwork for you. Our goal is to earn your complete trust and allow us to handle everything for you along the way. We will handle the IRS inquiries for you and send appropriate responses for you. We will conference by telephone with the IRS for you to advocate for your completed registration, making it easier for you to focus on meeting the needs of those your organization was created to serve.