Paternity and Protective Orders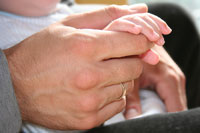 Tulsa Family Law Attorneys Robinson Law PC offers support, advice and counsel to mother and fathers dealing with paternity issues. We know that the paternity of a child can be a stressful and emotional experience for all parties involved, knowing that issues such as child support, custody and visitation are involved. Through our knowledge of DNA testing procedures, we will work to provide clear evidence of paternity, so that the issues affecting the mother, father and the well-being of the child are properly addressed.
Our experience in custody rights enable us to provide the assistance and caring that you and your family needs. Under Oklahoma law, when a child is born out of wedlock, the law presumes the child to be in the custody of the mother. If you are the father, you can establish custody rights but must file a proceeding in court, asking a judge to declare that you are the natural father.
Until the court makes such orders, you would have limited custody or visitation rights, even if you and the mother have reached an out of court agreement. Such agreement would not be enforceable if later challenged or disputed by someone. Robinson Law PC can give you the guidance and direction you need to establish your rights in a binding and enforceable manner. It will also prevent you from having DHS determine that you are behind on child support and enforcing child support that you did not have an attorney protect your rights regarding.
Some parents need help with emergency custody proceedings due to domestic violence in the home. We have experience in helping you obtain a protective order for yourself or an emergency custody order for your children. If you fear that your children are in immediate harm and that you need an emergency custody order to protect them call us at 918-960-0091 for a free consultation.