Dissolution of Marriage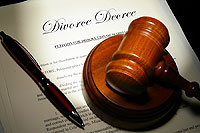 Tulsa family law attorneys at Robinson Law PC understand the emotional roller coaster your entire family will be on during the painful process of dissolving a marriage. We want to guide you as an experienced and caring lawyer through the process so you have the peace of mind of knowing that your best interests are being looked after as you make the transition to your new life. The outcome of a divorce can have a significant impact on your parental and financial rights. With so much at stake, it is critical that you retain highly qualified legal counsel.
In addition to over 25 years legal experience Mark and Roberta Robinson have completed the week long Oklahoma Bar Association Family Law Section Trial Advocacy Institute held in Oklahoma City, Oklahoma. Mark Robinson has over 25 years legal experience in addition to his advanced certification in mediation. He has also taught mediation and negotiation strategies at Oral Roberts University. Together Mark and Roberta Robinson have extensive experience to handle your family law case.
In the greater Tulsa and surrounding areas, Robinson Law PC offers experienced legal representation. We are prepared to handle any issue that may arise in the context of your divorce, including:
Division of marital property and debt
Custody and visitation
Child support
Spousal support or alimony
Protective Orders and Domestic violence
Emergency Custody Orders
Court hearings are often necessary to resolve these issues and Robinson Law PC is prepared to aggressively represent you in the courtroom to protect your interests. However, because we understand that divorce proceedings can be extremely stressful and expensive, we will also put our negotiation skills to work for you to help you come to amicable terms with your former spouse whenever possible. Thus, the more you can resolve without court intervention the less time consuming and expensive your divorce will be.
We strive to make you feel comfortable with the process and do not pressure you into litigation. By providing you with information, recommendations, and insight based upon our years of experience, we believe we can empower you to make good, informed decisions and prepare you to reach an agreed upon plan with your spouse. We will work diligently to help you and your partner develop a plan for an agreed divorce agreement or agreed custody and visitation schedule if at all possible. This is the least expensive and less stressful means of transition possible. If your situation requires litigation we are prepared to aggressively represent you based on a thorough understanding of the law and your unique situation.
Most of our clients have financial issues as well as family law issues. If you are considering filing bankruptcy it is imperative that you talk to an attorney who has extensive experience in bankruptcy law as well as family law. The timing of your filings and the nature of your filings can prevent you from obtaining a discharge of your debt if not done correctly. We have extensive experience in handle both matters for our clients and can advise you on the best course of action for your situation.