Hiring a Music or Entertainment Law Attorney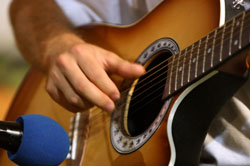 Robinson Law PC Music, Media, Book Publishing and Entertainment Law Attorneys have over 40 years combined experience practicing law. Oklahoma based Mark Robinson is passionate about the music business and is a strong advocate of his client's careers and their legal needs. He will ensure the following:
He will ensure that anything you are asked to sign is fully negotiated in your best interest and makes sure that you fully understand what you are signing.
He will represent you with publishers, managers, agents, accountants, and other songwriters.
He will work hard to promote you among his associates.
He will submit your work to A&R people, record labels, publishers, and artists to listen to your work.
He will analyze previously signed contracts for ways to renegotiate, expand upon, or even invalidate an unfair contract.
He will defend your legal rights in the case of a dispute and deal with any "breaches of contract" (when someone fails to live up to their part of the bargain).
He will provide you with the credibility of having lawyer representation with the music industry professionals as opposed to expecting them to deal with you directly.
Mark Robinson has experience representing Dove and Grammy Award Winning Artists and has represented authors and publishers for over twenty years.
Your father's real estate attorney who plays banjo cannot help you sufficiently. Mark Robinson is an attorney who has practiced in music law for over twenty years. His specialty within that broad category has been in the area of copyrights, trademarks, representation agreements and all forms of contracts. He is an experienced negotiator and is comfortable handling your royalty questions also.
Mark Robinson has represented several Dove and Grammy Award winning artists. He has experience working with Record Companies as well as Production Companies. Your success is his bottom line and he has a variety of affordable fee options to handle your legal needs.