Entertainment & Media Law Contracts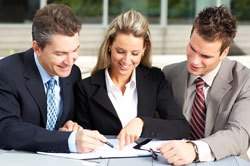 Robinson Law PC
entertainment
and
media law contract attorneys
can handle all types of contracts needed for legal matters related to the
entertainment industry
. We focus our efforts in the
music
and
book publishing
industry but because there are many overlapping areas we have transacted deals for clients including those such as
video, television, film
and
motion picture
projects, and
Internet gaming
. Some typical contracts we handle include:
Music publishing, co-publishing and participation and royalty agreements
Songwriter agreements including single song, catalog deals, licensing, assignments
Performing rights organizations royalty contracts such as BMI, ASCAP or SESAC
Recording Artist agreements for either side - artist or company
Production contracts for producer, session musicians, collaboration agreements, work for hire agreements, guest artists, etc.
Marketing, media promotion and publicity agreements
Distribution agreements, wholesale and retail
Booking agency contracts
Artist and Talent management contracts
Touring and staging contracts
Music Video production agreements
Intellectual property agreements including registrations, licensing, sales, mechanical rights, sync rights
Contracts for internet and new media applications and distribution platforms, and other trans media opportunities
Manuscript, book, screenplay option or purchase agreements
Literary agent agreements for authors, graphic artists, designers and Web professionals
Our clients include singers, songwriters, musicians, producers, talent agents and managers, writers, models, software designers/developers, and any company including record companies and publishing companies involved with the production, financing or distribution of musical or literary creative works.