Entertainment, Media, & Intellectual Property Law
Welcome to the Law Offices of Entertainment, Media and Intellectual Property attorney Mark Robinson. Mark has provided personalized and resourceful legal representation with a commitment to the success of many diverse entertainment and media law clients for the past 26 years.
Experienced and Personalized Music Industry Representation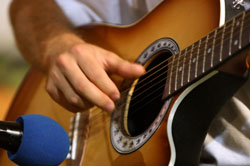 Mark Robinson understands the music industry inside and out. He has a firsthand knowledge of it as a lawyer and also personally, as a musician and songwriter. As legal counsel to Grammy and Dove award winning artists as well as record companies with music publishing deals, recording, copyright and trademark rights, television, video and film deals and book publishing deals he has achieved outstanding results for his clients.
Much of the entertainment law field is based on contracts and negotiating contract terms and deals. As a Business Contract Lawyer and a Certified Mediator Mark has handled many negotiations and drafted thousands of contracts.
Mark has been invited to teach at the university level on Negotiations and Business Law. He has been asked to speak at legal seminars on music copyrights, sync rights, and intellectual property rights unique to the entertainment field. Mark has developed valuable practical legal experience that compliments his knowledge of music industry laws and transactions.
Mark Robinson's first-hand knowledge in the music industry translates to personal attention and entertainment law expertise rooted in commitment to your success. Mark represents his clients in a way that is efficient, never intimidating and always in your best interest.
Mark Robinson has a reputation for developing creative legal solutions customized to his clients needs. He is an aggressive advocate for musicians, song writers, record companies, music publishers, graphic artists, authors, book publishers, producers, directors, actors, models, software developers and designers, equestrians, sports athletes, trainers, and many others in the creative arts, media and entertainment field.
The following are examples of legal services offered by Robinson Law PC:
Contract, Review, Advisement and Negotiation
Music Group Organizational Business Documents
Athlete Contracts, Endorsements and Appearance Agreements.
Business Entity Formation of Independent Record Labels
Business Entity Formation of Management, Production, Publishing Companies.
Purchase and Sale of Independent Record and Entertainment Companies
Review and Negotiation of Recording, CD and Music Video Production and Management Agreements.
Negotiation of Literary and Screenplay Rights.
Event Sponsorship Agreements.
Registration and Maintenance of Copyright, Trademark and other Intellectual Property Rights, on behalf of singers, songwriters, bands and corporate entities.
Litigation of trademark and copyright infringement.
Review and Negotiation of License, Assignment and Royalty Agreements.
One of the most important things to consider is that more often than not, a creative artist or entertainer will be great at what they do but not so great at dealing with the business side of things. That's where having an experienced music attorney represent you is so important.
Robinson Law PC understands how to deal with the business executives in the industry and can "level the playing field" for you the artist. You should be able to just focus on what you love to do, using your creative gifts.
Let Robinson Law PC focus on protecting your business interests so you are not taken advantage of by those who deal in the business side of the industry every day. Call Robinson Law PC for a Free Entertainment or Intellectual Property Consultation Today.