Business Mediation Services

Robinson Law PC provides Certified Mediator Services by an Attorney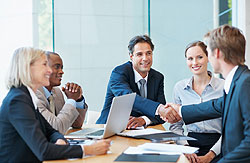 The notion that most people want black robed justices, well dressed lawyers and fine paneled courtrooms as the setting to resolve their dispute is not correct. People with problems, like people with pains, want relief, and they want it as quickly and inexpensively as possible. Warren E. Burger, former Chief Justice US Supreme Court
Conflict destroys more business success than competition. Valuable human labor productive time and financial resources are often wasted and used up while you are trying to resolve a business dispute. The stakes are high and you need help to break the gridlock.
Mark Robinson is a certified mediator with a business degree and years of experience in corporate management at IBM prior to his legal career as a business lawyer. His experience helps him apply well developed problem solving skills to resolving diverse and difficult issues. These issues would otherwise stall the work and progress of executives, corporations and their employees for years. He works to restore clear understanding of the real issues people are dealing with and to lay out alternatives that will meet the goals of all parties. His mission is to provide quick resolution to your business problems as an affordable price.
Mark Robinson has taught on and has helped many business owners, individuals and organizations over the past twenty years with diverse issues including:
Partnership Disagreements
Management Team Disagreements
Board Member Disagreements
Conflict Resolution between team members, departments or vendors and customers
Family Owned Business Conflicts
Mediation May Be a Productive, Quick and Inexpensive Option for Your Business:
If you are using email instead of face to face interaction to avoid conflict
If this issue has been unresolved and dragging on for months or years
If the disagreement is consuming much of your time, focus, energy or money
If you wake up in the middle of the night worrying about the problem
Mediation, Negotiation Assistance and Conflict Resolution Needs arise in many settings.
Mark Robinson's advanced mediation skills are applicable to businesses, families, individuals and non-profit organizations, churches and ministries as well. Contact us today for a free consultation.