Labor and Employment Law Issues for Business Owners
Tulsa Oklahoma Business Employment Law & Labor Lawyers
Robinson Law PC business lawyers provide business employers with comprehensive representation that includes legal counsel on employment issues.
Experienced Employment and Labor Law Attorneys for Businesses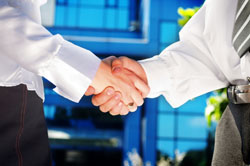 At Robinson Law PC, we strive to provide outstanding service to every business client. We believe in practicing preventive law to eliminate problems before they start. We counsel our clients on policies they need to develop and practices they should follow to avoid employment litigation.
We guide your business in developing compliant employee handbooks, job descriptions, appraisal and performance review documentation, and human resources policies that satisfy federal and state regulations. We consider the Equal Employment Opportunity Act, the Fair Labor Standards Act (FLSA), the Family and Medical Leave Act (FMLA), the Americans with Disabilities Act (ADA), and the Age Discrimination in Employment Act (ADEA) when helping you develop effective employment policies and procedures.
Preventive practice will eliminate or minimize the amount of problems you face as a business owner with employees. Even when you encounter problems, we are ready to assist you with any claims or issues that arise in the following areas:
Discrimination
Sexual Harassment
Retaliation
Wrongful Termination
Wage & Overtime (FLSA)
Medical Leave (FMLA)
If you, as an employer, do not understand the many state and federal laws that regulate your relationship with your employees, you need the advice and counsel of the business employment lawyers at Robinson Law PC. Among the things you'll be expected to know and understand:
Best hiring practices, from how to conduct interviews to pre-investigation of job applicants without invasion of privacy. – Wage and hour laws, including compensation regarding minimum wage, overtime, and compensatory time.
What the minimum requirements are for types of employee leave, including sick time, vacation time, and parental leave.
Factors in the correct use of independent contractors, including ways to help you avoid a misclassification problem
How to create a workplace free of a hostile environment, that will avoid harassment and discrimination based on gender, age, race, pregnancy, sexual orientation, disability, and national origin.
How to write a job description and employee handbook, communicate policies, conduct performance reviews, and discipline employees.
What the law permits if you conduct a background check, a workplace search, or if you want to monitor certain employee conduct.
Workplace health and safety laws, including OSHA, workers' compensation, and rules on employee alcohol and drug use.
How to terminate an employee legally and ethically- How to protect your business from discharged employees after they leave.
For a free initial business law consultation or for more information about our business law and employment law and labor law services please call our offices or fill out our contact form. We zealously protect your business and financial interests.