Business Formation
Tulsa Oklahoma Incorporation and Business Start-Up Attorneys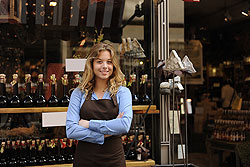 Robinson Law PC business formation lawyers know that beginnings are important. We understand that legal entity choice and operating decisions made long before a new company opens its doors can directly impact how long that company will stay open.Your entrepreneurial spirit will accomplish great success if it is supported by a solid foundation that nurtures efficient growth.
Choice of Business Entity
There are many options and challenges with business start up. One of the most important decisions you will need to consider is the form of legal entity your business should take. Robinson Law PC gives serious attention to your dreams, goals and resources when analyzing appropriate business formation choices for you. We work closely with your CPA in considering the best business entity type for you. If you do not have your own financial adviser we know many accountants in the area and can provide recommendations to them.
Attorney Mark Robinson will discuss with you what type of business you have currently and what your needs and plans are. He will then describe the advantages and disadvantages of each type of business entity so you can make an informed decision about your business formation. He thoroughly guides his clients through the process of choosing from among the business forms available under State law and registering it with the state, the IRS and the federal government. Some business entities commonly used are:
Partnerships
Joint ventures
Family limited partnerships (FLPs)
Limited liability companies (LLCs)
Limited liability partnerships (LLPs)
Sole proprietorships
Professional Limited Liability Companies (PLLCs)
S Corporation
C Corporation
Our experienced Business Formation Attorneys will save you money
Mark Robinson has a degree in business and years of experience with IBM in corporate management. He has formed and managed his own business entities and has over twenty years of experience in individually tailoring successful business plans to each new business entrepreneur's needs and goals.
Starting a business as a DBA or sole proprietorship without exploring the alternatives could be costly and cause you to lose important advantages. Attempting business formation without experienced business legal counsel can lead to unexpected headaches. Online Internet companies that provide carbon copy forms and documents can lead to personal liability for federal and state business taxes, invalidation of your business by the state, penalties and employment law issues.
When analyzing your individual business goals and resources Mark Robinson will consider many factors to help you choose the right form of business such as:
– Ease of Formation
– Ease of Maintenance (Meetings, record keeping, etc.)
– How profits/losses are distributed
– How profits are taxed
– Amount of capital required
– Restrictions on ownership and/or transfer of stock
– Protection of personal assets from liability
– Dissolution (termination) or continuation of the business
Robinson Law PC business law attorneys will look not only at the best options for opening and starting your business but also at the best options for maintaining it and growing it. Mark Robinson has helped business owners, nonprofit organizations and ministries all across the United States with LLC formation, Incorporation and Partnerships. Contact us at Robinson Law PC … we offer free initial consultation and reasonable fee options.