Business Corporate Training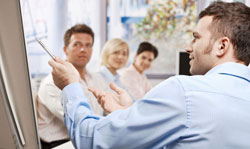 Our Corporate Training Attorneys offer additional business services especially for small to midsize companies who do not have the luxury of an in-house training department as part of their human resources.
Wise business owners realize that their employees are their most valuable resource. Your people are the face of the business and are responsible for customer satisfaction. They are also key in workplace productivity and growth in your business. So it makes sense to invest in their personal development, giving them skills which increase their value to your business. It also is a benefit perceived by employees that lets them feel valued, thus increasing your ability to retain those employees you worked so hard to hire and train. Making an investment in your employees is a wise decision that pays dividends both to you and them.
Robinson Law PC offers the following services:
Corporate training in conflict management and dispute resolution skills. We can design a plan for you to minimize time away from work while maximizing skills learned. We can put together a two hour session or either a half-day or full day workshop. We will conduct this on your site for your convenience. We also are available to travel to retreat sites and other locations at your request.
Legal issues in Human Resources: Training for Managers from a Company perspective
Legal issues in Human Resources: Training for employees to create a productive workplace
Speaker for Keynotes, Workshops and Teleconferences on various legal topics
Typical components of our Conflict Resolution programs include:
What is Conflict?
What is Conflict Resolution?
Understanding the Conflict Resolution Process
Separating the people from the problem
Neutralizing Emotions
Setting Ground Rules
Choosing the Time and Place
Focusing on interests rather than positions
What Do I Want?
What Do They Want?
What Do We Want?
Creating options for mutual gain
Finding Common Ground
Building Positive Energy and Goodwill
Strengthening Your Partnership
Identifying the Benefits of Resolution
Creating solutions
Evaluating and choosing solutions
Measuring success by objective criteria
Stress and Anger Management Techniques
Lessons for the next time
Communications techniques
Asking Open Non-Charged Questions
Past attendees of this program have all agreed that they learned at least one key thing that will immediately help them do their job better. Many have said they received several useful skills which have empowered them to interact with peers, co-workers, and even customers and clients on a more professional and positive level.
Train your managers and staff to resolve conflicts early, or pay attorneys and other expensive professionals to deal with them later, in a much less efficient manner. Eighty (80%) percent of workplace conflicts that reach a formal dispute resolution system (such as arbitration and litigation) could have been resolved early, quickly, and inexpensively . . . if the employees directly involved had just known how. By teaching these skills, you will be saving money on your bottom line.
For very little cost, you can make a huge investment in your employees, and ultimately, in the long term success of your business. Contact Robinson Law PC today to arrange corporate training and consulting services today.