Bankruptcy
Robinson Law PC's Tulsa Oklahoma bankruptcy attorneys will help you get relief from the burden of financial stress and get your life back on track. Our  bankruptcy lawyers in Tulsa have helped thousands of Oklahomans like you.
We provide bankruptcy representation in Oklahoma including Tulsa, Broken Arrow, Bixby, Sand Springs, Jenks, Sapulpa, Claremore, Okmulgee, Mounds, Beggs, Muskogee, and other cites in Northeastern Oklahoma. We would be honored to help you
Stop debt collectors harassing phone calls and letters
Stop mortgage foreclosure
Stop automobile repossession
Stop wage garnishment
Stop creditor lawsuit
Do a Bankruptcy Means Test Evaluation
Explain the Oklahoma Bankruptcy Exemptions
Get your Bankruptcy Questions Answered
Understand the Different Types of Bankruptcy
Determine if you should file for Chapter 7, Chapter 13 or Chapter 11 Bankruptcy
Determine if you should file bankruptcy individually or as a married couple
Obtain sound financial advice to know if bankruptcy is an option for you
Know your options with IRS Tax Collectors and Student Loans
Determine What Bankruptcy Forms you Need
Have the Costs of Filing Bankruptcy Explained to You
Obtain an affordable, low cost bankruptcy
Use a Bankruptcy Payment Plan to Pay for Your Bankruptcy
Gain Perspectives for Christians struggling with Bankruptcy.
Offer Virtual Bankruptcy Service where you can submit your documents electronically and you can review your petition electronically before it is filed!
CALL TODAY
To Talk To Our Tulsa Bankruptcy Lawyers
For Your Best Bankruptcy Options In Oklahoma!
918-960-0091
Everyone who files bankruptcy doesn't want to. Yet many people, need the relief afforded by filing bankruptcy. They are in terrible bondage to debt often created by unforeseen circumstances –job loss, divorce, death of a spouse, medical trauma, unfortunate business decisions, and other real life events that "happen".
This financial debt bondage can destroy marriages, devastate families, shatter business owner's dreams and steal your physical health. But, you can regain your peace of mind and rebuild your future by filing for bankruptcy. It is called a "Fresh Start".
Our Bankruptcy Law Firm knows the Bankruptcy Law in Oklahoma.  We want you to understand that you are not alone, you are not a bad person and you do not have to live this way anymore.
In Tulsa over 4,000 people filed bankruptcy in 2017. Almost two million people filed for bankruptcy in the United States in 2010. We understand the difficulty you are in and have helped thousands of others like you.
Call Our Experienced Bankruptcy Attorneys in
Tulsa For a Free Consultation Today!
918-960-0091
We will put our experience and knowledge to work for you so you can live free again without the weight of debt's burden. We will advise you on how to rebuild your credit and qualify for a car loan and home mortgage again after your bankruptcy discharge.
We have bankruptcy forms that will help organize your debt, property, income and expenses. This information will be used in preparing the documents to be filed in the bankruptcy court for you.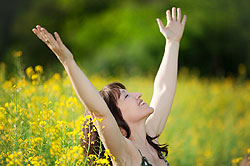 Once your bankruptcy petition is filed, you will have automatic relief from any and all collection activity until the court disposes of your case. All debts properly scheduled in the bankruptcy will be discharged (you will no longer have a legal obligation to pay) except for certain debts that you choose to reaffirm (keep paying) and certain debts not allowed to be discharged by law. In a Chapter 7, your case will be over in as little as 90 days.
Just the very idea of bankruptcy is frightening. Unfortunately, it is sometimes the only option if you ever want to regain control of your finances.
There are so many circumstances that could have gotten you to this point, especially with the state of the economy the last two years. At Robinson Law PC, we don't judge, we help. Our goal is to help pull you from the stranglehold of debt and on to a path towards financial freedom.
Our Tulsa Bankruptcy Lawyers Offer
Affordable Payment Plans and Quick Filing!
We offer you experienced and knowledgeable bankruptcy services in bankruptcy, including Chapter 7, which requires you to liquidate your assets to pay off your debts.
Call us today for a free 30 minute consultation to get more details on the different bankruptcy requirements. Robinson Law PC will explain the entire process to you. We are ready to help you…Contact us today.
P.S. Deciding whether filing bankruptcy is right for you can be a hard issue. We don't presume to know you, but Robinson Law PC wants to be available with information for you so you can make an informed decision.
Please "Like Us" On Face Book
NOTICE — DEBT RELIEF AGENCY
Robinson Law PC is a federally designated Debt Relief Agency under the United States bankruptcy laws. Robinson Law PC assists people with finding solutions to their debt problems including, where appropriate, assisting them with the filing of petitions for relief under the United States Bankruptcy Code.