Garnishment and Debt Collectors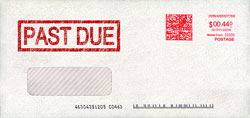 Most often, I hear an audible sigh of relief when I tell a client that the
garnishment
of their paycheck will stop immediately on the day their bankruptcy is filed. Even more good news is when they hear me tell them that any monies garnished after filing date due to a "mid-pay period" timing MUST be returned to them. As experienced
Tulsa Oklahoma bankruptcy attorneys
we know to contact your employer and your creditor and make sure that your money is refunded to you once you file for bankruptcy.
CALL TODAY
To Talk To Our Tulsa Bankruptcy Lawyers
For Your Best Bankruptcy Options In Oklahoma!
918-960-0091
And even if you are not being garnished, on the bankruptcy filing date ALL collection activity must stop. This is because of the "
Automatic Stay
" provision of the bankruptcy code, which goes into effect immediately upon filing. As of that date a debtor cannot even be contacted by a creditor attempting to collect or enforce a debt. This means no threat of
lawsuits,
no
garnishment of wages
, no seizure of bank accounts, no
foreclosures
, no
repossessions
, and no phone calls, letters, or emails to the debtor. Sometimes a secured creditor, such as a home mortgage or auto loan, needs to take certain actions regarding the collateral for the loan (the property). Even so, the lender cannot contact you and instead must now ask permission from the court to proceed with any collection activity. In the meantime, you will have relief from the stress and harassment of creditors, and your attorney will have time to work in the situation to your best advantage. Contact us at Robinson Law PC if you are threatened with a garnishment or harassing collection activity.....we know how to stop it.
Please "Like Us" On Face Book
And Enter a Drawing For a FREE iPad2.