Foreclosure and Repossession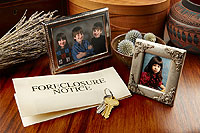 A foreclosure of your real property (such as your home) or repossession of your personal property (such as your car) are examples of an attempt to enforce or collect a debt on Secured Collateral.
The experienced Tulsa Oklahoma bankruptcy attorneys at Robinson Law PC will make sure that all such activity is stopped immediately when they file your bankruptcy. This is because when our bankruptcy lawyers file a chapter 7 bankruptcy case for you, immediately an "automatic stay" goes into place.
The automatic stay prohibits a creditor, such as a mortgage company, from taking any action against the person filing the bankruptcy.
The automatic stay immediately halts a foreclosure proceeding. In order to continue with the foreclosure, the lender must get permission from the bankruptcy court. The automatic stay is effective to stop a foreclosure in Oklahoma up until the hearing confirming the sale occurs. After that point, it's too late to save the property being foreclosed.
The same is true of a lender on your vehicle; if you are behind on payments, they cannot repossess your vehicle without permission from the court IF you have filed bankruptcy. You would have some time to decide if you want to surrender the vehicle or see if there is a way you can afford to keep it, before they can just take it away and leave you afoot.
CALL TODAY
To Talk To Our Tulsa Bankruptcy Lawyers
For Your Best Bankruptcy Options In Oklahoma!
918-960-0091
There are some time limits that a debtor must know and Robinson Law PC will advise you so that you can protect all rights you have.
For example, if a Chapter 7 bankruptcy is filed, the automatic stay will stop the foreclosure but generally only for a brief period of time. Chapter 7 bankruptcy provides no means to catch up on the delinquent mortgage payments.
Therefore, unless the homeowner can come up with a lump sum payment to bring the mortgage current, including not only missed mortgage payments but also costs of the foreclosure action, the lender will ask for and receive permission from the bankruptcy court to continue with the foreclosure proceeding.
If you want to save your home from foreclosure but cannot come up with the necessary lump sum payment to bring the mortgage current, a Chapter 13 bankruptcy can solve the problem.
In Chapter 13 bankruptcy, a homeowner who is behind on his mortgage payments is allowed a 3 to 5 year period in which to catch up the amount he is behind. For example, if your mortgage payment is $1000 per month and you are 6 months behind, you have to pay the current amount due plus the $6000.00 arrearage.
The lender's position will usually be that it wants the $6000.00 paid in a lump sum plus late fees. In addition, if a lawsuit has been filed, the lender will tack on court costs and attorney's fees. Obviously, if you have gotten that far behind, you probably do not have that type of money to pay in a lump sum in order to stop the foreclosure of your home. A Chapter 13 bankruptcy filing will immediately stop a foreclosure and allow you to pay the arrearages over 36 to 60 months in a repayment plan administered through the bankruptcy court.
Call Our Experienced Bankruptcy Attorneys in
Tulsa For a Free Consultation Today!
918-960-0091
Many people have been through a foreclosure since 2006.  They thought that mortgage loan modification would help them but usually found that the banks were hesitant to approve them.
People need to understand that the servicers profit from foreclosure because they earn a lot more in fees as long as the loan is in default. While modification is promised as a solution it is usually impossible due to the securitization of contracts.
These loans are regulated by the IRS as REMICS and are not originator owned or serviced. The end result is that many folks are delinquent in thier mortgage because they tried to work out a modification but were not approved.
When the Bank obtains a Judicial Foreclosure The Court Can Order the Sale of the Property Called a Sheriff's Sale. If the Foreclosure Sale Did not Generate enough Funds to Pay the Mortgage Debt, Interest, Fees etc then a Deficiency Judgment is Entered.
This Debt is then Sold to Collection Agencies Who Try To Collect From the Homeowner Through Personal Garnishment of Bank Accounts and Wages.
The Homeowner Can File Bankruptcy Chapter 7 to delay the Scheduled Sheriff's Sale Before It Occurs. This Gives the Homeowner Time to Vacate and Find a New Dwelling. This Option also Gives The Homeowner Time to Negotiate a Short Sale or Deed in Lieu of Foreclosure To Avoid a Foreclosure on thier Credit Report.
Bankruptcy Before and After the Sheriff's Sale Protects the Homeowner From Garnishment of Wages and Bank Accounts for the Deficiency Judgment.
The important thing to remember is that if you are in jeopardy of losing your home, or facing losing a vehicle that is your only means of transportation, you do have options. Visit with our Attorneys before you are sued and garnished for a deficiency judgment as the result of a foreclosure or repossession. Contact us today at Robinson Law PC and let us help.
Please "Like Us" On Face Book