Debt Settlement Companies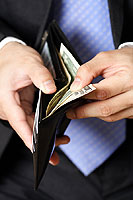 We have all seen and heard those advertisements from debt settlement companies promising quick debt relief. They promise that they have the special tricks and shortcuts to help negotiate deals with your creditors where you end up paying only pennies on the dollar and your creditors consider the balance paid in full.
It almost sounds too good to be true and it usually is, but I've counseled many clients that come to me AFTER they learn the truth….. that these companies and their promises are the only one who benefit from your past due debts.
First beware of any such company that is out of state.
They are not held accountable to our state laws which govern the conduct of credit counseling and debt management agencies the same as local companies, and are thus much more susceptible to take advantage of you. They charge you a lot of money up front for their "services" and also require monthly payments. They can also cause delays that will seriously damage your credit.
Debt settlement companies also give bad advice which ends up hurting your credit. They will tell you to stop paying your creditors and instead deposit money in a special account while they negotiate with your creditors.
While they negotiate (and in some cases they do not even attempt negotiations) they do not make any payments to anyone except themselves for their "fees". All the while, your creditors are charging you various late fees and penalties because you have stopped paying them, and so your debt can actually get worse. You may then wind up owing more than when you started and your delays and/or nonpayment of debts get reported to the three national credit reporting bureaus.
Because there are many unscrupulous credit-counseling and debt-management firms out there, if you still want to try that route before deciding on bankruptcy, you may want to contact a local (in-state) nonprofit credit counseling agency who are regulated by the state.
They can sometimes help when the situation is not very bad. However, I have seen many clients come to me that started a payment plant through such agencies and later ended up filing bankruptcy anyway. They lost valuable time and money trying to make a plan work to avoid a bankruptcy, instead of consulting a good bankruptcy attorney such as Robinson Law PC to determine the overall best way for them to obtain the debt relief needed.
Before trying to "dig yourself out of the debt hole" come for a free half hour consultation with Robinson Law PC and find out realistically what is and is not possible, before wasting your valuable time and money.
Please "Like Us" On Face Book