ABOUT US
Robinson Law PC is a a partnership of Tulsa Oklahoma based Christian Attorneys. Mark and Roberta Robinson have been practicing law since 1991 and have helped many people with Bankruptcy, Probate, Wills, Trusts, Family Law, Personal Injury, Business Law, Intellectual Property, Entertainment Law, Nonprofit Law and Mediation. We provide affordable professional representation with personal attention. Your success is our goal. Our legal experience combined with our related prior professional work and personal involvement in missions and non profit volunteer service helps us to provide creative solutions to complex legal problems.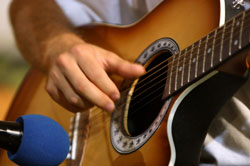 Mark Robinson's business degree and prior experience with IBM in corporate management compliment his business law practice. He has helped business owners for over 26 years with business formation of LLC, partnerships and corporations.
His corporate mangement experience with IBM has given him an in depth understanding of corporate business contracts, business leases, business transactions and corporate training. Mark works to formulate winning business strategies to help business people achieve thier dreams of forming and running a prosperous business. Mark has also taught University Graduate Business Courses on Legal Issues in Human Resources, Negotiation and Conflict Resolution.
Mark's personal involvement as a worship leader and musician as well as his work as an attorney in the Christian music industry and his knowledge of intellectual property law compliments his legal representation of musicians, authors, and other media ministries. Mark has been honored to represent Dove and Grammy award winning music artists and successful record publishing companies as well as many book authors. Mark has written and spoken on intellectual property law in the music industry and the role of government in church affairs.
Mark has also helped many non profit organizations and ministries across the United States with 501c3 or tax exempt IRS applications and representations for over 20 years. He has worked extensively with international and national based ministries, churches across the United States and several sports and charitable non profit organizations. Mark has personally participated in missions trips with Open Doors Ministry in Oklahoma to Mexico and Bangladesh. These life changing experiences have given him great insight in helping other churches and ministries achieve their goals.
Mark's background in these areas provides the broad legal experience to effectively represent you with a thorough understanding of all of the legal issues that may affect your case. His advanced certification as a licensed mediator help him negotiate and resolve legal issues more effectively. Mark is a member of the Oklahoma and Washington State Bar Associations, the Tulsa County Bar Association, the Oklahoma Trial Lawyers Association, the Attorney Mediator's Institute and The Christian Legal Society
Pictures from Mark's Mission Trip to Bangladesh with Open Doors Ministries:
(click on images for larger view)

Roberta Robinson's experience in medical social work, law, and as President Emeritus of the Oklahoma Brain Injury Association compliments her practice as a Tulsa Oklahoma personal injury attorney. She has 26 years of legal experience practicing in the areas of:
Traumatic Brain Injury, Coma, Concussion, Mild Brain Injury

Spinal cord injury

Wrongful death

Shoulder and Knee Injuries

Herniated Disk Injuries
Her medical background helps her to develop compelling evidence of how an injury impacts your life in school, at the job or at home. She works with medical, vocational, and rehabilitation experts across the United States to provide comprehensive documentation of your damages for the best case settlement. Roberta has spoken at numerous State and National Medical and Legal Conferences on topics related to representation of clients with traumatic brain injury and catastrophic injury.
Roberta Robinson has handled many probate, estate planning, guardianship and family law issues for her clients.  Her background in social work compliments her legal skills by helping her better understand how to help families navigate the probate process and asset protection during retirement or upon death. She understands the issues families will face when they might need medicaid or medicare assistance for in home or long term care issues and how to best plan for this transition. Her social work background gives her unique insight in dealing with divorce, custody, visitation or guardianship issues as well. Her experience in courtroom litigation is complimented by her completion of the week long Oklahoma Bar Association Family Law Section Trial Advocacy Institute in Oklahoma City, Oklahoma.
Roberta Robinson's experience as President of the Oklahoma Brain Injury Association and Vice President of the National State Assembly of Brain Injury Delegates has given her unique hands on experience in non profit formation, management and non profit IRS compliance. Her experience as a managing partner with Robinson Law Offices compliments her practice as a business and non profit organization attorney. She has 20 years of legal experience practicing law and ten years experience managing her own firm. As a managing partner she has been responsible for firm human resources, marketing, commercial property lease agreements, vendor agreements and management.
As President of a large State Wide Non Profit Organization, Roberta has also been active in non profit formation, maintenance, fundraising, marketing, event planning, membership and board governance. She chaired four nationally recognized conferences for physicians and medical providers. Roberta has spoken at numerous State and National Medical/Legal Conferences. Roberta is passionate about working with non profit organizations based on her own participation in missions and non profit organizaitons such as the OKBIA and Green Country Arabian Horse Association.This broad experience has helped her effectively represent her clients diverse legal needs.
Roberta's involvement in the Christian Legal Society reflects her desire to utilize Christian principles in her law practice. Through her work and experience Roberta has dealt with the impact of catastrophic injury and crises and the process of recovery. She is also a member of the  Oklahoma Trial Lawyers Associations and the Oklahoma Bar Associations. Roberta and Mark Robinson are also members of the National Association of Consumer Bankruptcy Attorneys. Together they provide comprehensive experienced representation with personal attention to your phone calls, emails and case. They each bring 20 years of experience practicing law to better represent you with a high level of legal representation in complicated practice areas.
| | |
| --- | --- |
| Roberta and our daughter enjoying horseback riding. | Our Sons |
Robinson Law PC handles bankruptcy, wills, trusts, family law, personal injury, business, entertainment and nonprofit organization legal representation throughout Oklahoma, including Tulsa and the surrounding areas of Broken Arrow, Bixby, Owasso, Jenks, Claremore, Sand Springs, Sapulpa, Bartlesville, Okmulgee, Vinita, Miami, Pryor, and Muskogee.  They can help businesses, artists, authors and ministries Nationwide with corporate training, business formation documents, mediation services, intellectual property registration, trademarks, copyrights, entertainment issues and nonprofit IRS tax exempt application.
Mark and Roberta provide comprehensive experienced representation with personal attention to your phone calls, emails and case. They each bring 20 years of experience practicing law to better represent you with a high level of legal representation in complicated practice areas.